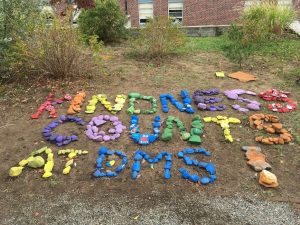 With the current climate in our country, we felt students needed guidance and a reminder why it is imperative to be kind to everyone to improve everyone's quality of life.  The Kindness Challenge lends itself to, not only promoting kindness, but also fostering cooperation, understanding, patience, and acceptance.  Our faculty, staff, and students saw the need to come together and demonstrate kindness to one another in our community and remind people that everyone is special.  
When brought together at the kickoff assembly, students and adults alike got excited for the "challenge," and middle school students are usually up for a "challenge".  Everyone was on board from the beginning.
Fostering kindness daily also spills over into a level of trust and mutual respect.  When students feel safe, trusted, and respected, they can more readily focus on learning and social/emotional growth.
We participated in whole school, small group, and individual activities to delve into multiple ways to remind ourselves the many ways we can demonstrate kindness. Not only did we participate in the Kick Off Assembly and Final Project, Kindness ROCKS!, we hosted a Thanksgiving food drive for our local food pantry and a card/candy drive for a local veterans home.  
We cannot assume that everyone knows what it means to be kind.  If we want students to act a certain way, we need to teach them and lead by example. It reinforces our expectations and, in turn, becomes a habit.  And might I say it is a pretty good habit to have!