While academic content is essential in middle school, having students build relationships and community and giving them space to consider their identities and how they fit into the larger school setting is also crucial to their development.
Harshman jumped at the opportunity to join the Middle School Kindness Challenge because we felt the curriculum directly aligned with the work we were already doing and would push our students and staff to the next level.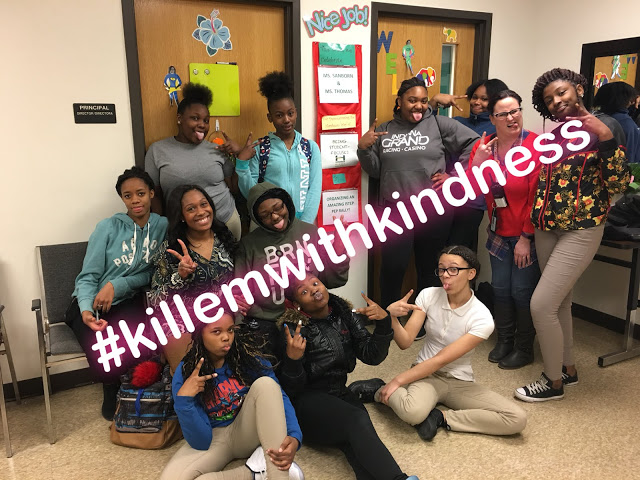 We had a group of 15 female students who were looking for ways to give back to their school and increase student engagement. When we told them about the Challenge, they were immediately on board and began brainstorming ways to incorporate it into our school culture. 
The girls created handouts and a PowerPoint presentation explaining the Challenge and gave these materials to teachers, then went around later to each advisory period and asked if there were any follow-up questions.
Students did a 30-day social media challenge where they were asked to only post positive messages on social media. The girls came up with the hashtag #killemwithkindness. Students who used the hashtag received shout-outs in the announcements.
The girls also organized a Kindness Kookout, where they hosted seven different stations with activities focused on kindness. That day, all the staff and students were invited to share a meal together. The entire day really brought everyone together and made our school feel like a family. It also empowered our students, as it was an event created for students by students.


Within schools, you have a large variety of people coming from diverse backgrounds attempting to work together – which can be hard. Having kindness at the root of the work you do teaches people not only how to be active listeners, but also how to be empathetic to people who might have different thoughts and values than their own.
Educators who want to build relationships and community at their schools do not have to reinvent the wheel. The Kindness Challenge is a full proof system, and the lessons provided are exceptional and easy to incorporate into daily practice.