Although the Middle School Kindness Challenge is designed for grades 4-8, we thought it would be an excellent program to take on here at Southwick Elementary School. After all, you're never too young to be kind! 
More than 50 percent of our students are English-language learners, and many of them come to us from other countries. Our American students don't always understand the differences and behaviors displayed by our Burmese students, so we thought the challenge would be the perfect springboard to celebrate diversity and creatively cultivate a schoolwide initiative for integrating kindness into our everyday interactions. 
Our participation started after our district superintendent challenged all East Allen County Schools to accept the Middle School Kindness Challenge. We decided to turn it into a school-wide competition, making each grade level a team, with our principal as the school captain. While the lessons in the MSKC are intended for older children, our staff worked together to select a set of lessons that we thought could be easily adapted to a level more fitting to our students.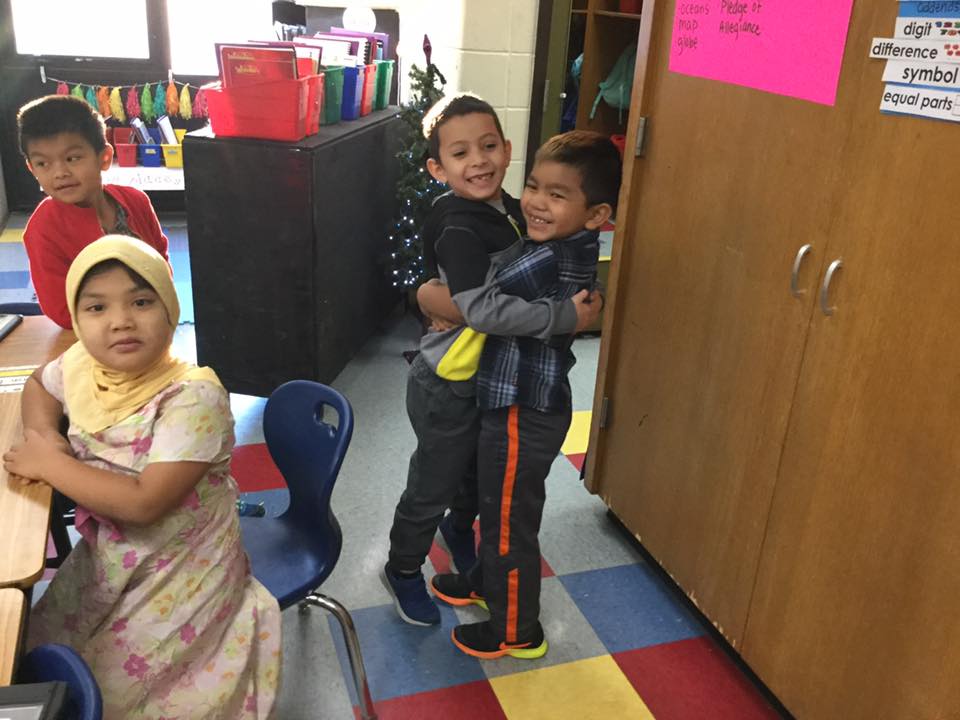 Our teachers did and continue to do an excellent job of integrating kindness activities into their daily schedules and made "being kind" a cornerstone of their classrooms. Students created kindness posters by generating a list of words they can use to communicate kindness, and wrote quotes on sentence strips to describe ways to be kind, which teachers then turned into kindness stories.
Our first grade team displayed a kindness tree in their hallway, and students and teachers earned a leaf to put on the tree when they were caught being kind.  As the year progressed, they received an apple for being kind and added them to the tree as well.
Other classes made Kindness chains in which students wrote ways that they would kind to others.  Teachers added community circles to their daily schedules to allow for discussions about being kind, how it makes the students feel when others are kind or not so kind to them, and to brainstorm ways to positively handle differences. Classes created contracts to describe what kindness would look like in their classroom and try very hard to follow them. Classes conducted Aggression Release Activities in which students lay on the floor and deescalate so that they can refocus on being kind when angry. Classes also practiced "kind conversations" in which students worked with a partner to talk while the other person listened without interrupting then repeated back what the other person said. 
Other classes acted out scenarios about how to respond in a kind way when someone upsets them or makes them mad rather than becoming angry or getting even. For example, one scenario required students construct paper dolls to represent themselves. Then, several students were selected to crumble a paper doll that another student had made. The class then talked about how hurtful the behavior was.  Then, the teacher had students to attempt to straighten out the paper dolls.  She then had the class notice the wrinkles that remained and explained that although the paper dolls were somewhat brought back to their original state, they would never be the same again.  She told them that the wrinkles represented hurtful words, and explained how harmful words can be and that although we may forgive, the action may never be forgotten and the person they hurt with their words may never be the same. 
During our Red Ribbon Week, students pledged to be kind in the cafeteria and signed a large red ribbon display that was posted on the wall.  As a way to spread our kindness into the community, our school conducted a can food drive and donated it to the food bank to help feed those in need.  We also made food baskets and delivered them to several of our families for Thanksgiving.  During the Christmas season, our staff adopted several of our students' families and provided gifts for each member of their family.
Teaching kindness is needed now, more than ever before.  With the world becoming more about "me," our goal during this challenge was to not only teach our students how to identify acts of kindness or simply doing a few activities involving kindness, but rather to instill in them a since of being.  
It's not enough to do kind things.  Kind, in our eyes, is who you are. 
Learn more about how Southwick Elementary School excelled at the Middle School Kindness Challenge by 
checking out their video.